Early Saturday morning we left the perfectly warm indoors to take pictures in defiance of winter. My parents used to go ice fishing regularly in the winter, drinking Dubonnet and lemon, pulling behind them a sled with a bundled up baby tucked inside. I know these acts are not a part of my genetic make-up. I'm half Finnish but that half is non-practicing. It seems to me a joke that this going out on a lake with ice a full foot thick, to fish for the day, has anything to do with my ancestry.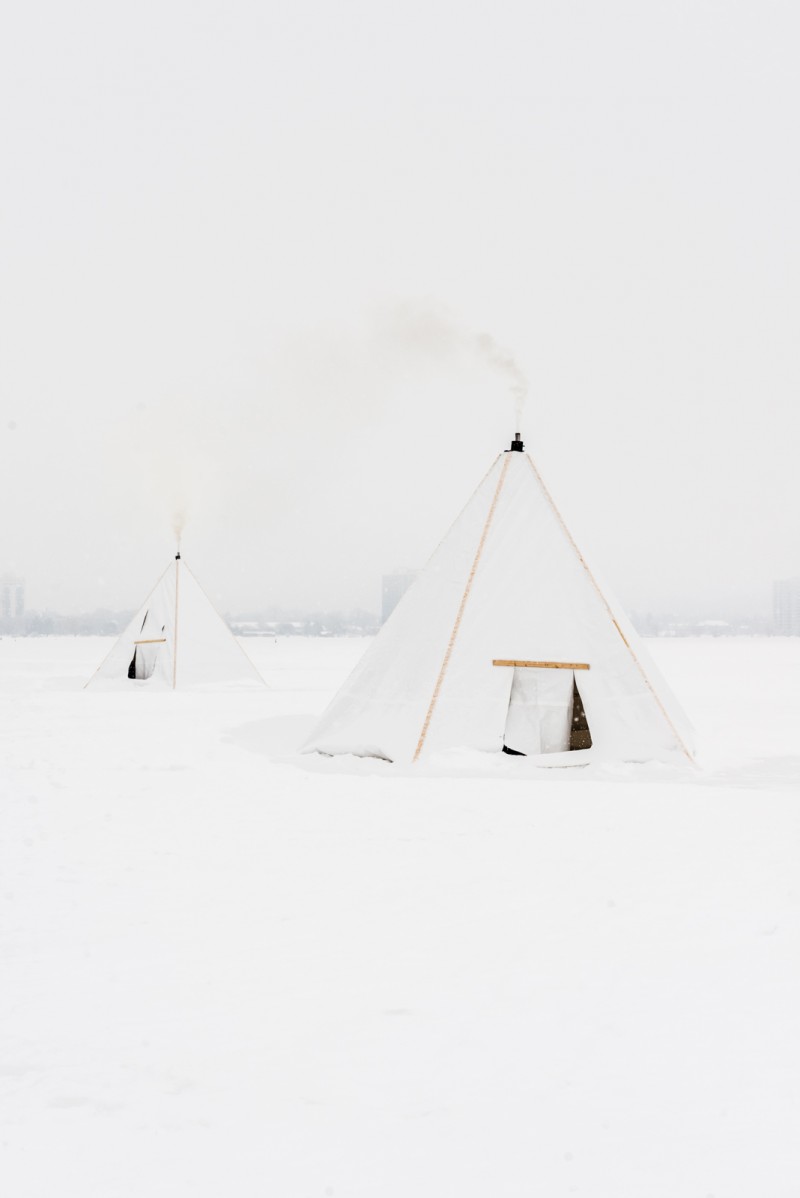 Jen and I make our first stop at the little convenience store at the park's entrance to see how we get started. We look the part, in matching red Canada Goose parkas and bulky black snow pants but really we have no idea. My outfit isn't my own but borrowed from Jen's dad. I'm more worried that my leather city boots are going to get ruined in this real arctic tundra. Inside, we're told to go talk to Sean out on the lake as he could hook us up with rods and a hole in the ice – the two things we were aware we needed for this shoot to work.
Towards the lake we go, making another stop to talk with the French Canadian man handing out mini fishing rods. We explain we have no interest in fishing *spoiler alert* but we want to take pictures to make it look like we're fishing. He supplies us with rods and points us out to the lake to speak with someone else about setting us up with a hole. Now I feel like we're playing a mission in RuneScape, chatting up merchants and locals, collecting bits and pieces of information that will help us on our quest.
With a bit of wandering we make it to one of the brothers running the hut program. He directs us to one of the brothers out further with the snowmobile because he'd have the ice auger we'd need to get that hole. Our story is that we're working on a "project" since we're both too embarrassed to say the words "food blog" in front of outdoorsy types.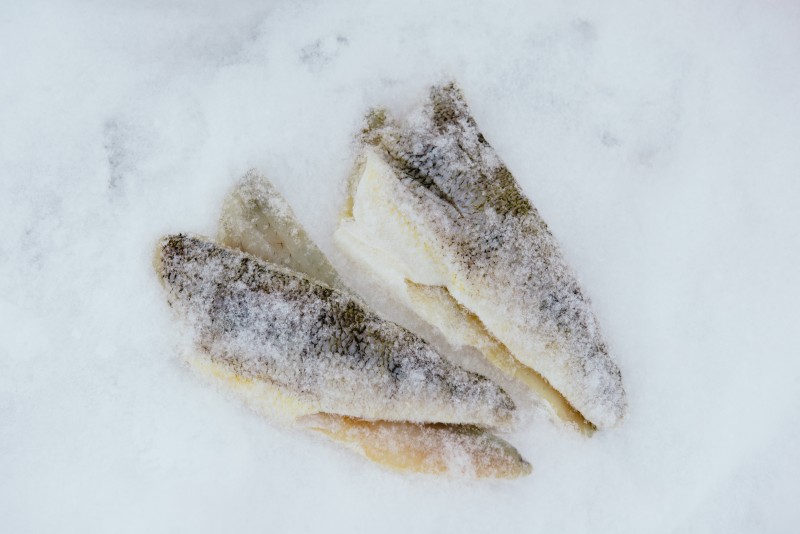 Like everyone before him, the brother with the ice auger was incredibly accommodating and was kind enough to make us a hole in the ice for our shoot. Promptly after he left us to our work, Jen fell good and hard on that thick lake ice. It wasn't like we had forgotten we were on ice or that it was slippery when the layer of snow was slicked with water but Jen's graceful side plant (so as not to crush the camera) helped to drive the point home to take extra care.
The whole point of this exercise and as it turns out, winter weekend, is to show what people do when the environment you live in turns to snow and ice. There's still warmth to be found from the people and traditions out in the bleakest of places. There's also life underneath all that snow and ice. The lake is full of perch, reminding us of warmer days spent fishing off the end of the cottage dock.
I wanted to capture the warmth and its simplicity in these photos. The meal that brought us here is a basic perch soup made simply by frying perch fillets in plenty of butter and serving them in a stock made from the bones and heads. The burned cabbage may sound odd but is easy to do over the gas flame of a camping stove and not only does it make for an interesting garnish, the toasting brings out a flavour reminiscent of kale chips. It's the kind of lunch that works well for the middle of a frozen lake where warmth must be made.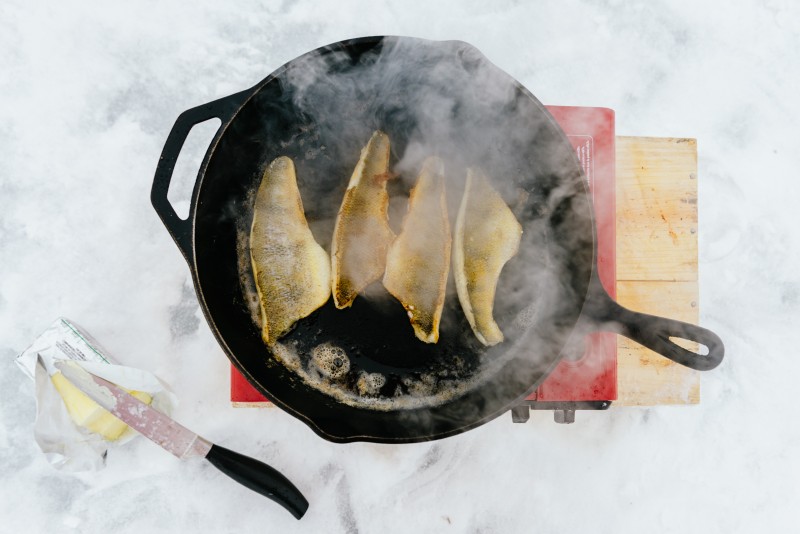 On our way back to the car, we did find Sean and admitted sheepishly that we were shooting for our food blog. We talked a while about how successful their hut program is running this season and how they hope to make some pretty fancy huts by next season, tricked out with potbelly stoves. I hope by next winter, once we've had a full summer to warm up, we can go back and take pictures inside one of those mini cabins on the lake. A potbelly stove inside would make it so much easier to find warmth.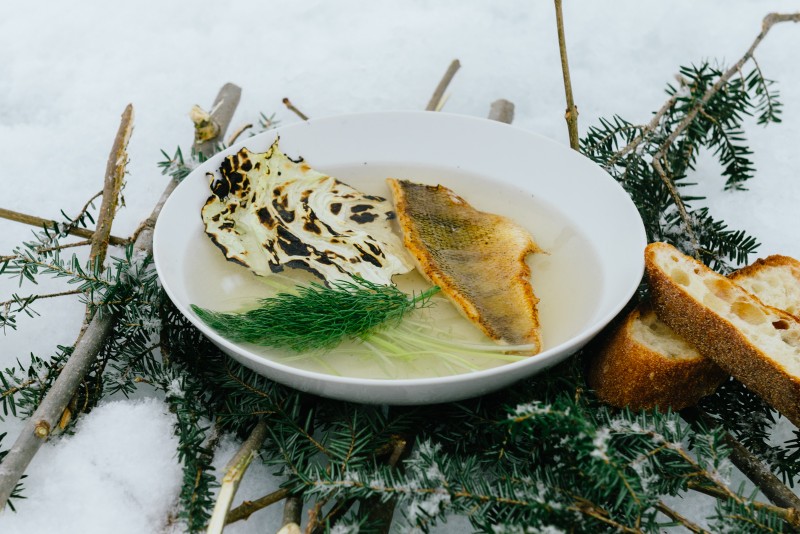 Though making your own fish stock is easy to do when you're dealing with whole fish for this recipe, you can absolutely stick to a pre-made stock, seasoned lightly with the spices below if you caught your fish fillets at your local fish monger.
Perch Soup
Serves 4 as a light lunch
4 small whole yellow perch, cleaned
2 litres cold water
1 fresh bay leaf
5 allspice berries
5 whole white peppercorns
1 teaspoon coarse sea salt
1 leek, sliced finely, tops reserved
8 leaves savoy cabbage
4 tablespoons unsalted butter
fennel fronds, for garnish
salt and pepper to taste
Fillet the perch, reserving the heads and bones. Add the water to a large pot and add the perch parts, minus the fillets, then the allspice, white peppercorns, salt, and leek tops. Bring to a boil and simmer gently for 20 minutes. Strain the stock, and return to the pot over low heat.
Using a pair of tongs hold a leaf of cabbage over an open flame to toast it, allowing it to burn in places. Repeat with the rest of the leaves and reserve. Melt 2 tablespoons of butter over medium heat and gently cook the leeks just until tender. Remove the leeks form the pan and set aside. Season the perch fillets lightly with salt and pepper. Add the remaining 2 tablespoons of butter to the pan and fry the perch, skin side down until lightly golden brown. Flip the fish and cook for an additional 20 seconds.
To assemble the soup, in a wide bowl place the leeks on one side and a burned cabbage leaf on the other, followed by a fried perch fillet. Garnish with a fennel frond.