When I saw a Toronto streetcar plastered with advertising for the new Ripley's Aquarium of Canada, featuring an octopus stretched along the outside of the car, I thought "neat, I should take a picture." When I didn't take a picture, I was happy to see more ads plastering the inside of the car, and yes, more octopus.
Over the last several years Toronto has been swept up under a tidal wave of octopus dishes, featured on both high and low-end menus. We can't get enough of it apparently, and so at the time of taking that picture I thought of how the new aquarium could make for a great front to supply Toronto chefs with more octopus. Of course, what I found out when we went to the aquarium is that they actually do stock quite a bit of fish that appears regularly on seafood menus. Not only did they have un-photogenic octopus, they had tanks of trout, haddock, halibut, Alaskan snow crab, and lobster. All that was missing was our host with a towel and fishnet to let us pick out which creature we wanted for our dinner.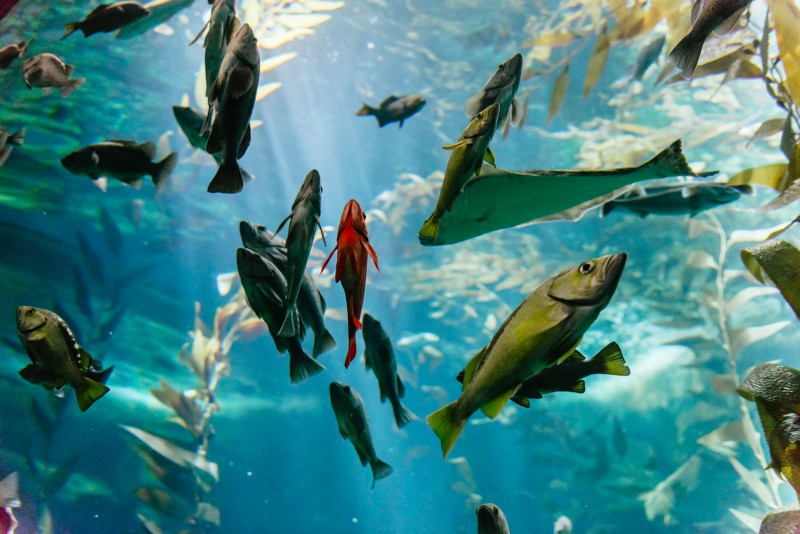 Some might think this a twisted way to look at the aquarium but I really think it's just a way of acknowledging what our food is and where it comes from. When we were at the aquarium with the thousands of children quoting lines from Finding Nemo, I over heard one of them repeat, "fish are friends, not food". Keep telling yourself that, kiddo.
I, like many Torontonians, love octopus. I order it almost every time I see it on a menu, thinking it's not something I would attempt at home for fear of creating a dish that's tough and inedible. Maybe it's fitting that a creature that carries so much lore and mystery should be slightly intimidating for home cooks.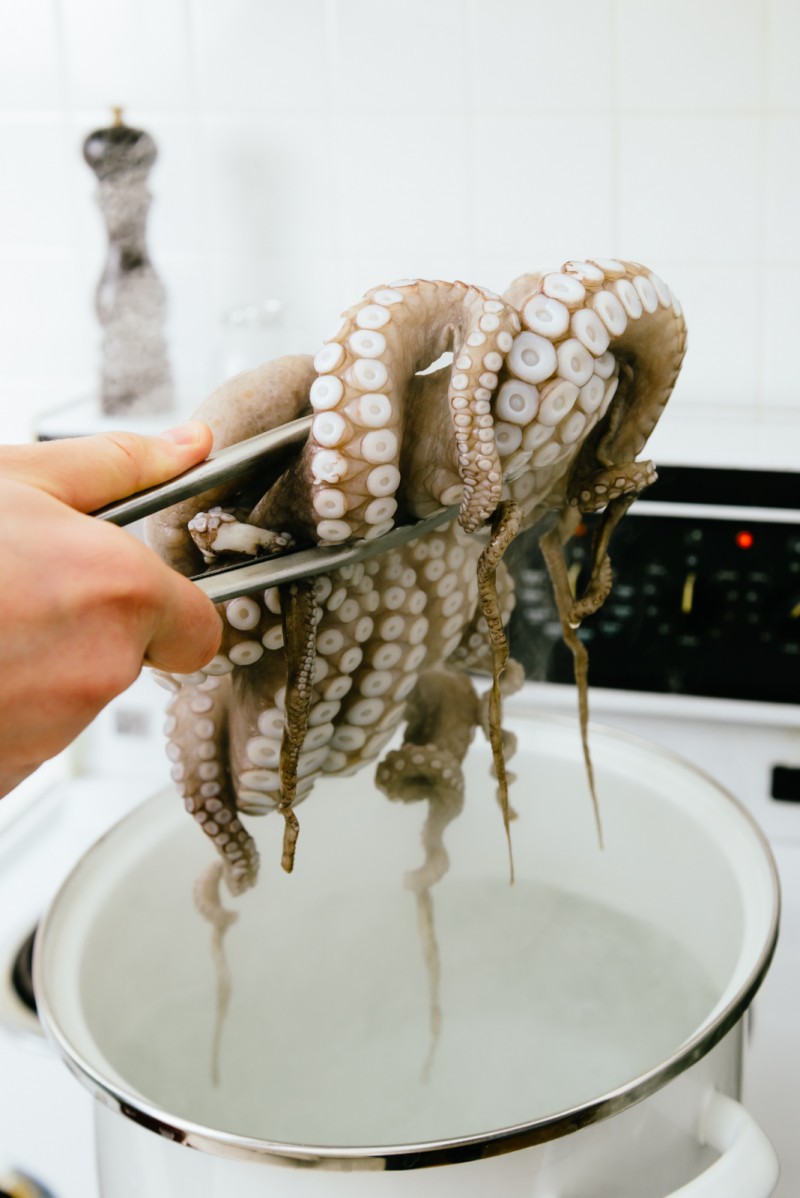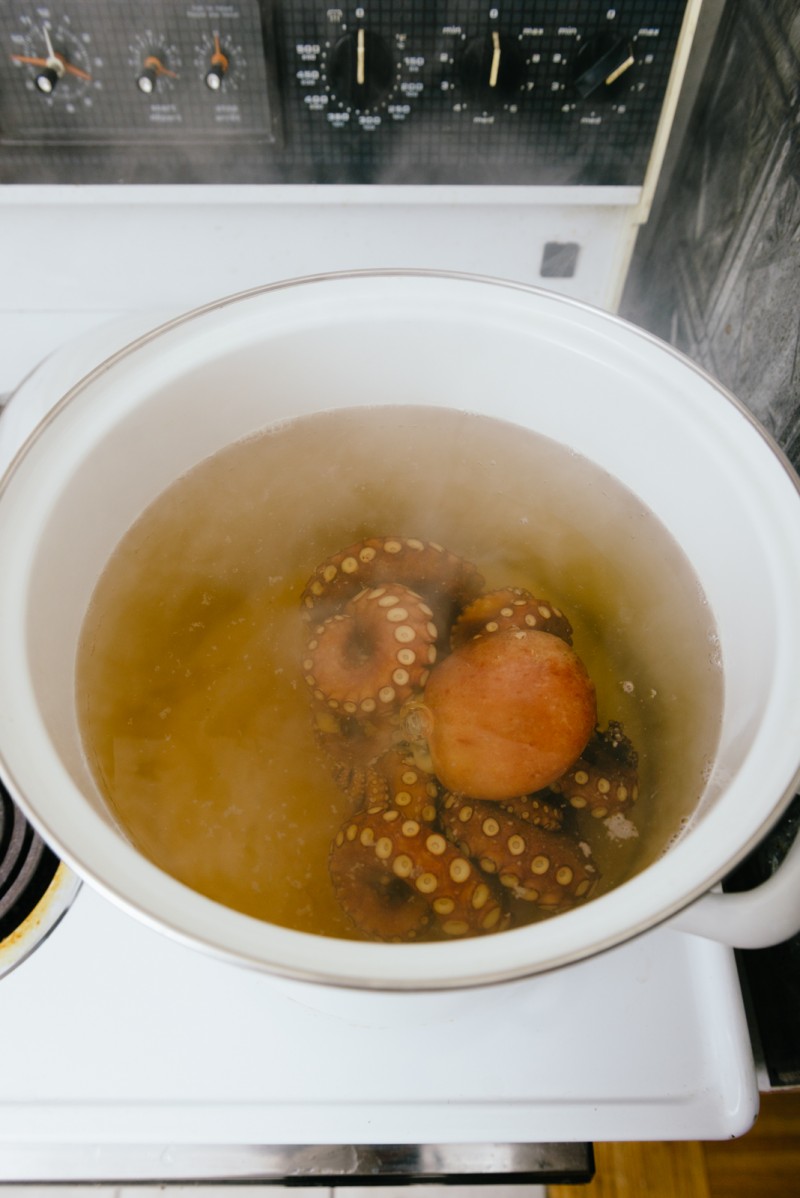 My favourite bit of octopus cooking witchcraft comes from something I've only ever heard of Spanish cooks performing. While there are plenty of brining, marinating, freezing, rock bashing, and drying techniques all for the sake of tenderizing this creature from the deep, in Spain it seems to be common practice to dip the octopus in a large pot of salted boiling water, three times for three seconds at a time before setting it in the pot to cook. I've done it this way too because I really see no harm in playing along with the ceremony but I highly doubt it makes a difference. No more difference anyway than it does to leave an avocado pit in a bowl of guacamole to keep it from browning or adding a match to a pot of simmering water when hard boiling eggs. It's harmless and makes cooks feel like magicians, so I say do whatever makes you happy.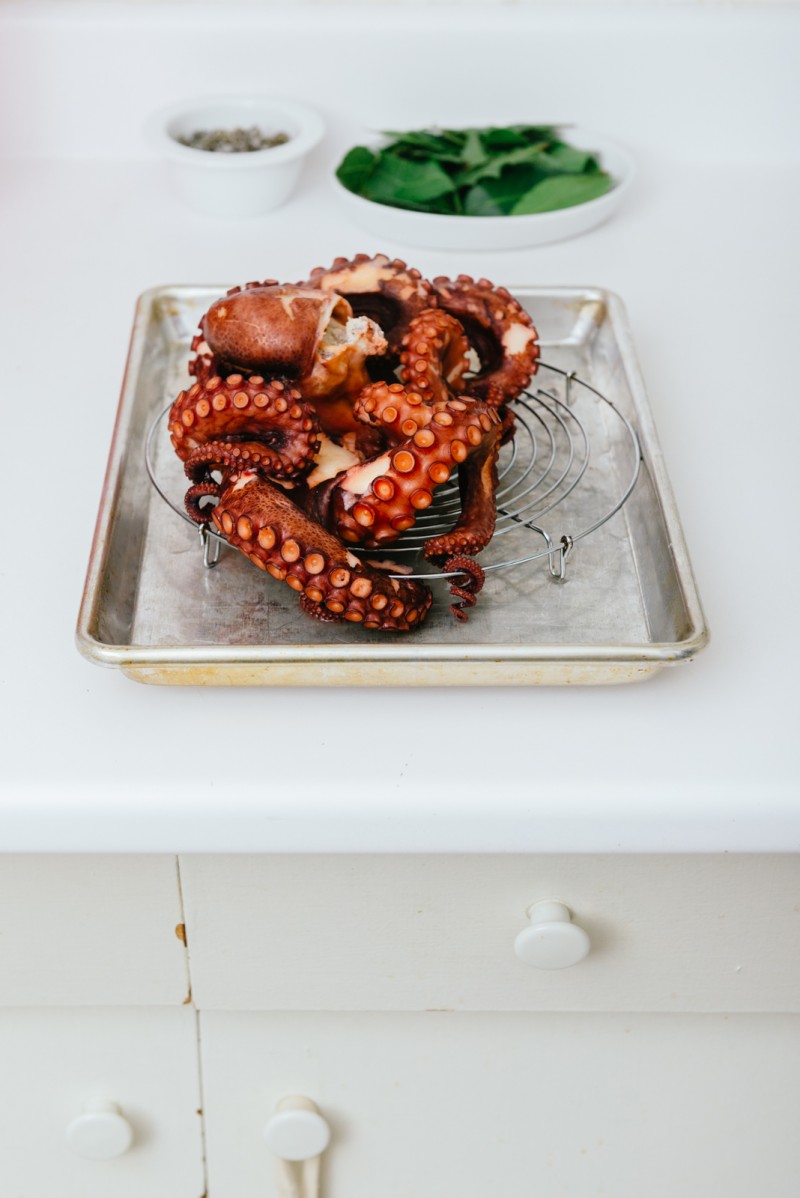 This is possibly the easiest recipe for octopus and it makes an impressive starter. It's a recipe adapted from the Barrafina cookbook, a book I trust for luscious and beautifully authentic Spanish cuisine. It consists of a few simple ingredients, meaning you should take the time to source out the best you can find. The paprika I prefer in this dish is a mild and sweet one, more widely sold as Hungarian sweet paprika. I'm sorry it's not Spanish. If you're lucky enough to find Spanish paprika, please go ahead and use it. You could use a smoked variety as well if you prefer a smokey octopus.
It's easy to adapt this recipe to suit the number of people you have to serve. We used a smallish 3kg octopus, which was enough for four as a light starter. Remember what seems like a beast before cooking will of course become more manageable and shrink down after cooking. To go alongside I tossed purple watercress with some green chilli left to macerate in lime juice with a little salt. The counter-hit of heat from the chilli and sharpness from the lime makes for a refreshing accompaniment.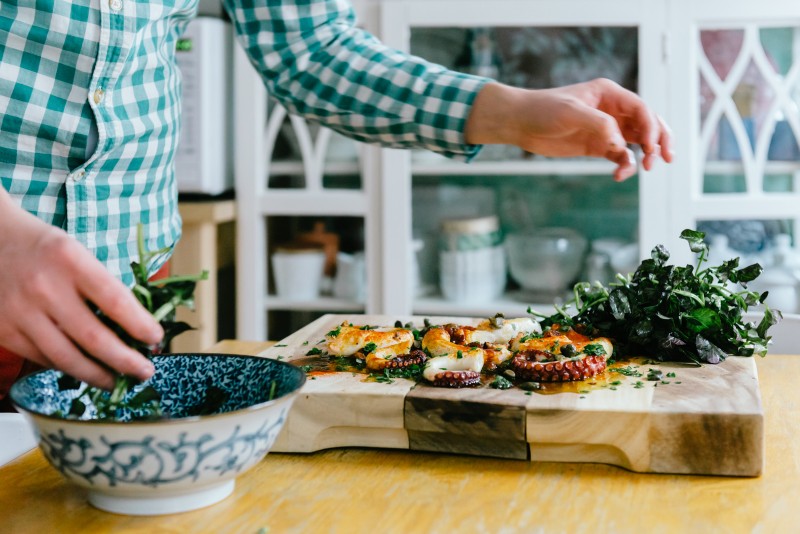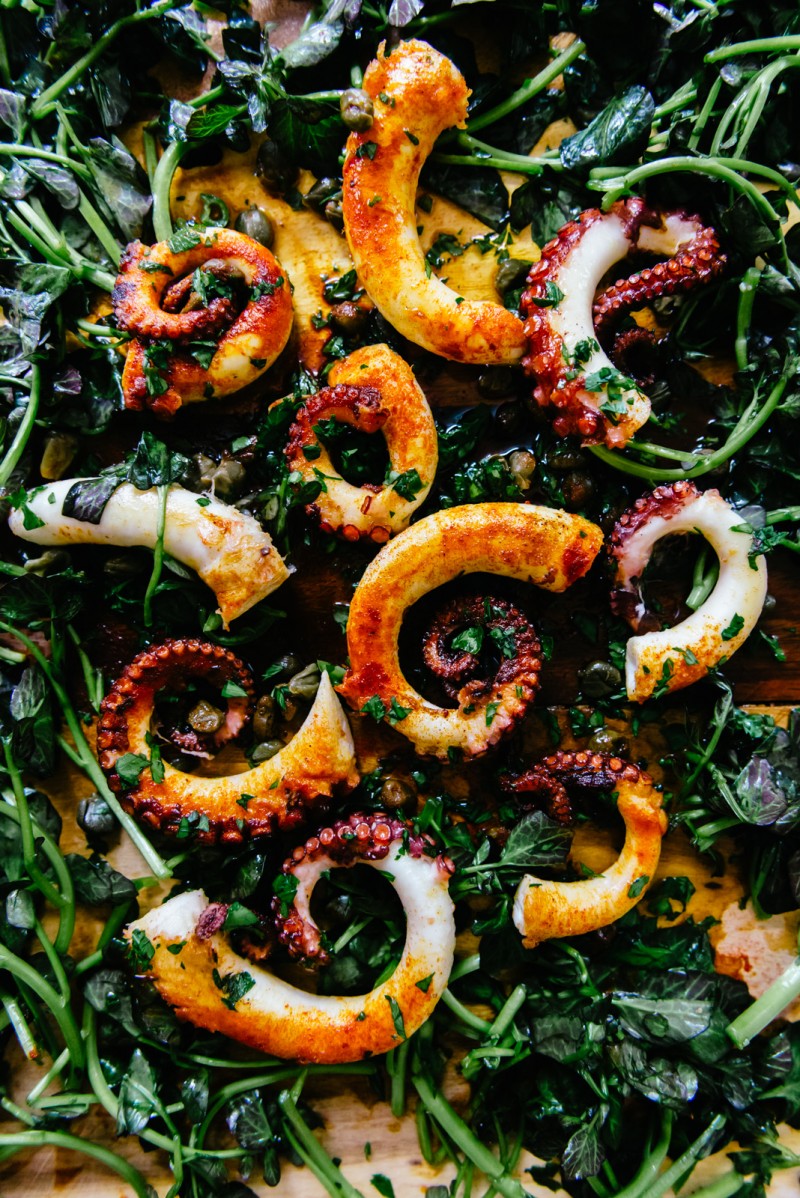 Octopus with Capers
Adapted from Barrafina: A Spanish Cookbook
1 medium to large octopus, frozen and thawed (3 – 5kg)
1 large white onion, peeled and sliced
1 fresh bay leaf
150ml olive oil
2 tablespoons sweet paprika
50ml extra virgin olive oil
100ml jar capers packed in salt, rinsed
2 tablespoons flat-leaf parsley, chopped
large flaked sea salt and freshly ground black pepper, to taste
In a very large pot of water, salted like the sea, dip the thawed octopus for three seconds and repeat three more times before placing the beast head facing upwards in the pot, adding in the onion and bay leaf. Simmer gently for 1 hour and 15 minutes then turn the octopus so that the head faces down and continue to cook another 30 minutes. Remove the octopus and allow to cool slightly and drain on a tray. Discard the head and beak and with a knife and your hands remove some of the skin and suckers, as much as you desire, dismantling the rest of the octopus into large bite-sized pieces.
In a large heavy bottomed frying pan, add the olive oil and heat over medium-high heat. Add the octopus pieces and fry briefly on each side to brown slightly. Remove from the pan and arrange the pieces on a serving board. Sprinkle the pieces generously with paprika then drizzle over the extra virgin olive oil. Scatter over the capers and parsley and season lightly with salt and pepper. Serve immediately.