In retrospect, it was a terrible idea to visit the new Ripley's Aquarium of Canada during the holidays, with the crowds of horrible children pushing and shoving, and their parents sticking their iPads in people's faces to take terrible direct-flash 0.7 megapixel photos.  Nevertheless, when John suggested a field trip to the new Toronto aquarium that opened in October, I jumped at the chance.  Our main purpose was to take pictures of the octopuses, in preparation for a food post about cooking octopus.  (Yes, I've been told that's kind of twisted.)
Sometimes, as a photographer, you approach a situation with a clear shot in mind; something that will truly capture a subject in its all its majesty: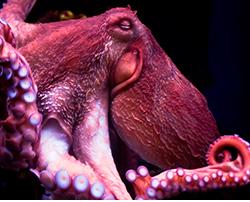 … but instead you end up with this: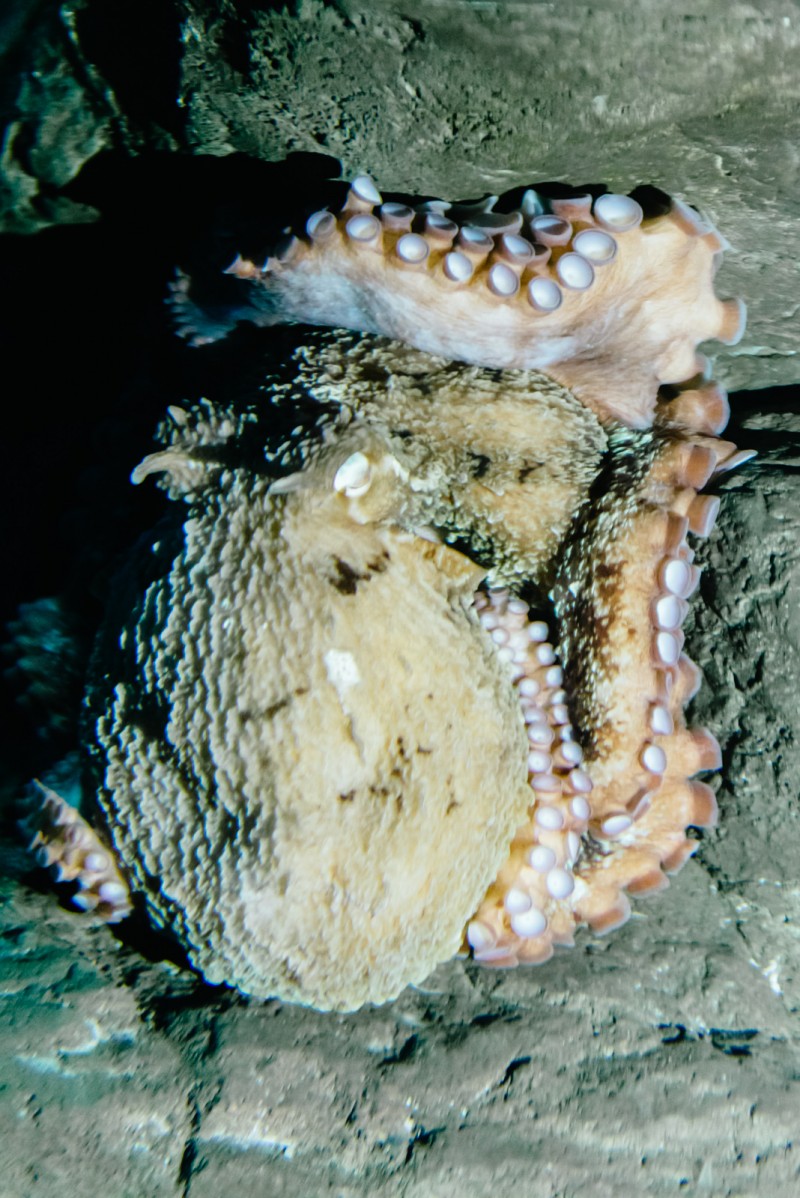 Or, this:
Nevermind the aforementioned horrible children and their parents, nor the tiny octopus tank with curved glass that distorts everything, nor the reflections, nor the lack of light… octopuses are nocturnal.  We were at the aquarium for almost 3 hours, and when we looped back through to visit them again at the end of our trip, neither of them had moved.  So, I ended up with the worst octopus photos in the history of octopus photos.
Luckily, John can't fire me because I own the Crustcrumbs domain (ha HA!), so I'm going to share some other pictures of fish from the aquarium.  However, fish and seafood are so not my thing, so I cannot promise the scientific accuracy of any of my captions.  On the other hand, seafood is John's thing, so if you stay tuned later this week, he's going to write more about the edible kind of fish.  He might even use their real names.

Shiny fish.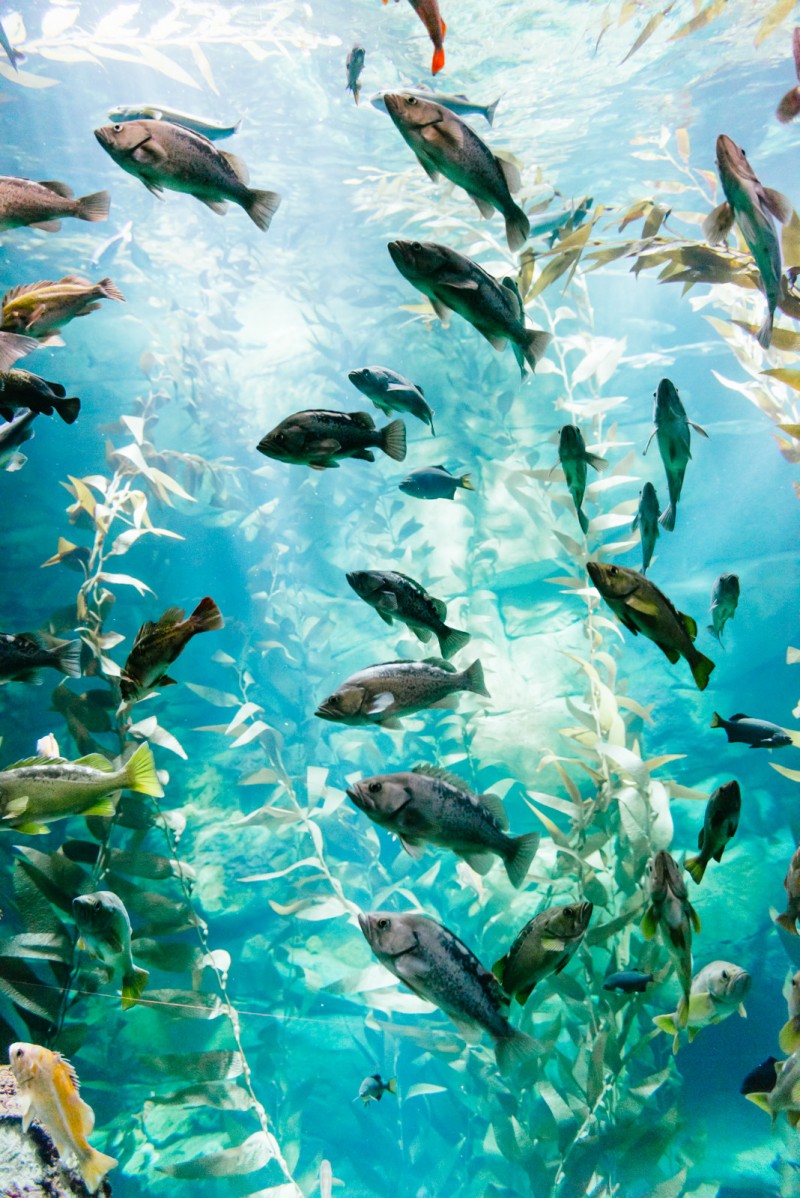 Drunk fish. Sarah took a pretty good video of these guys, who seem to just float around all day going "whoa…"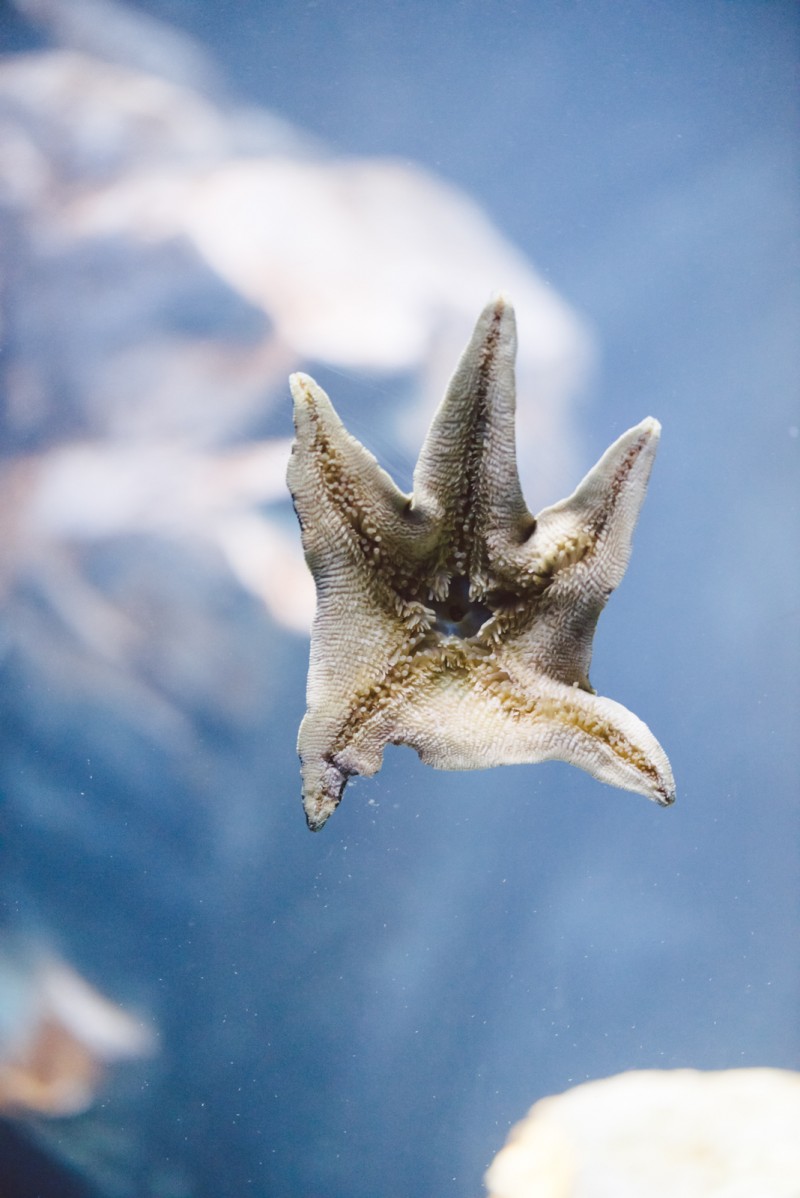 Starfish!

Colourfish!  Bonus Crustcrumbs game: guess how many children found "Nemo" while we were looking at this tank?
(Highlight for the answer: ALL OF THEM.  ALL OF THE CHILDREN FOUND NEMO.)

Boringfish.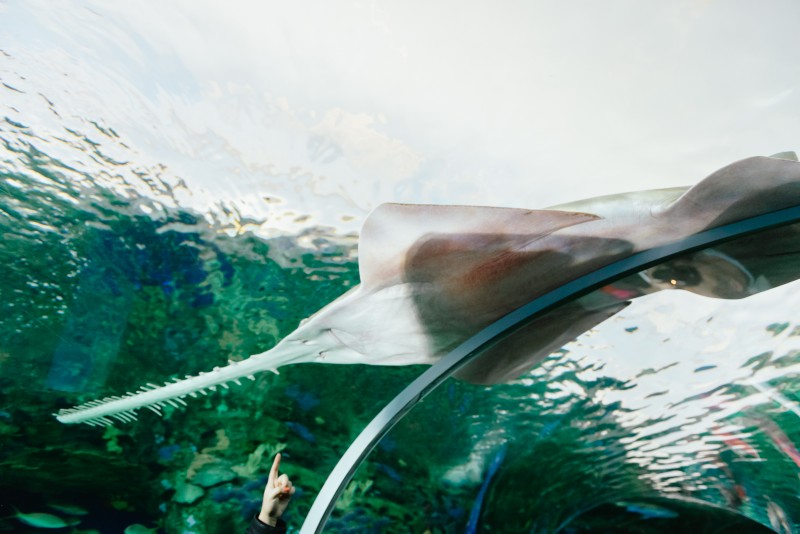 Lazy shark who rests on top of the shark tunnel.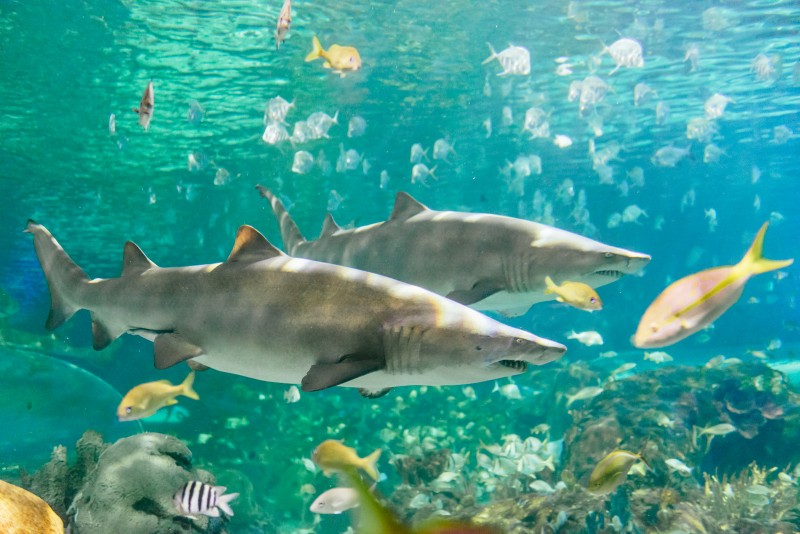 Fat sharks.  (I'm not crazy, right?  These sharks are pretty chubby, yes?)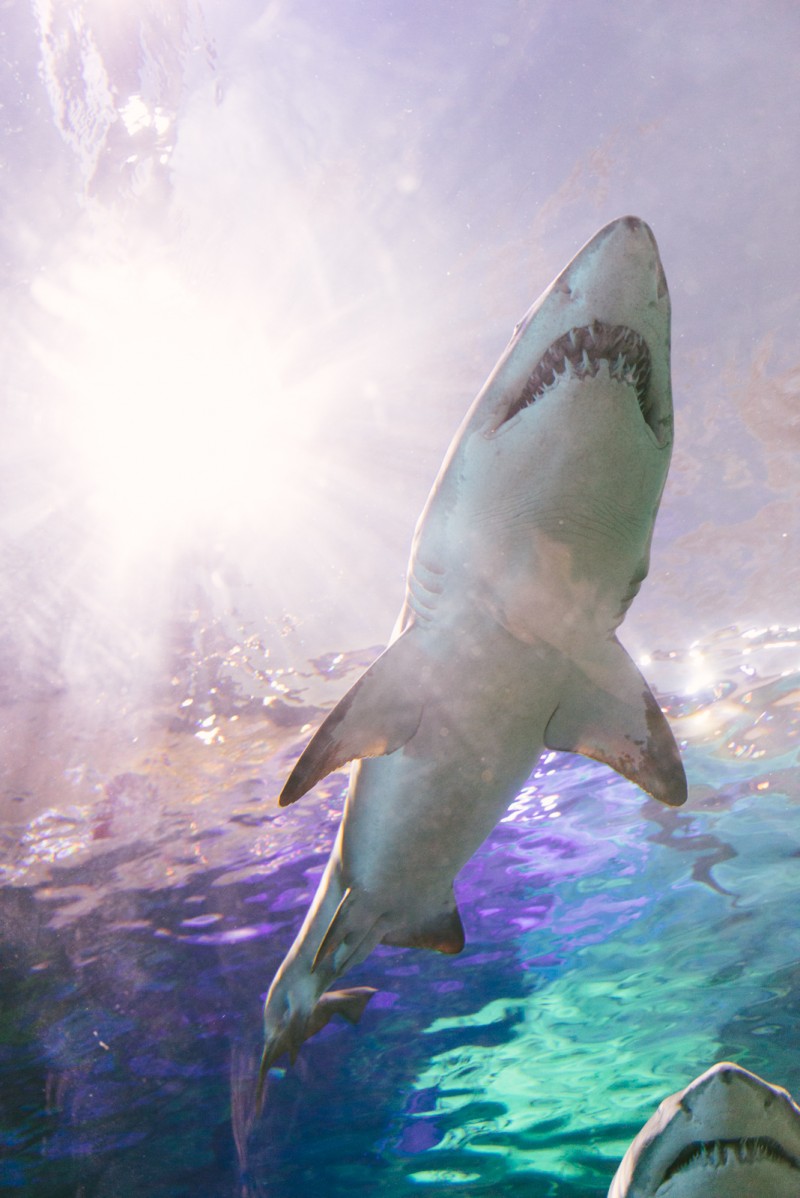 They still have pretty sharp teeth, though.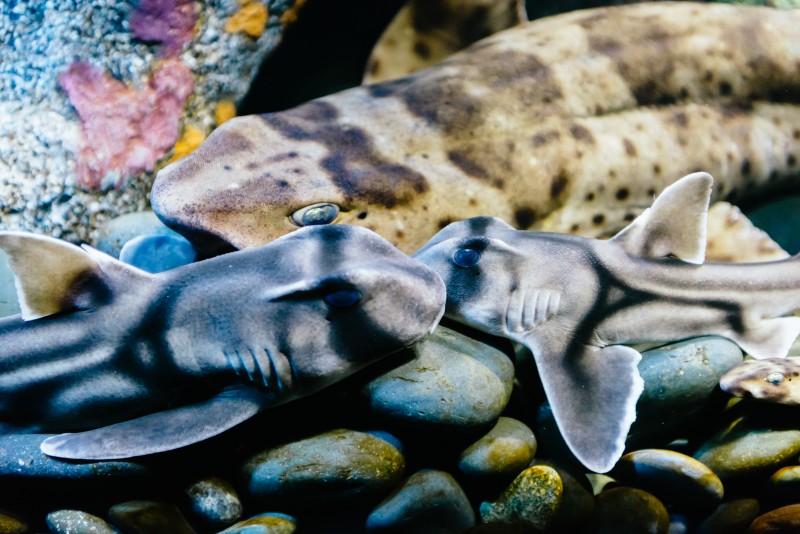 Here's a pile of dead sharks that look like rocks.  (Note: not actually dead.)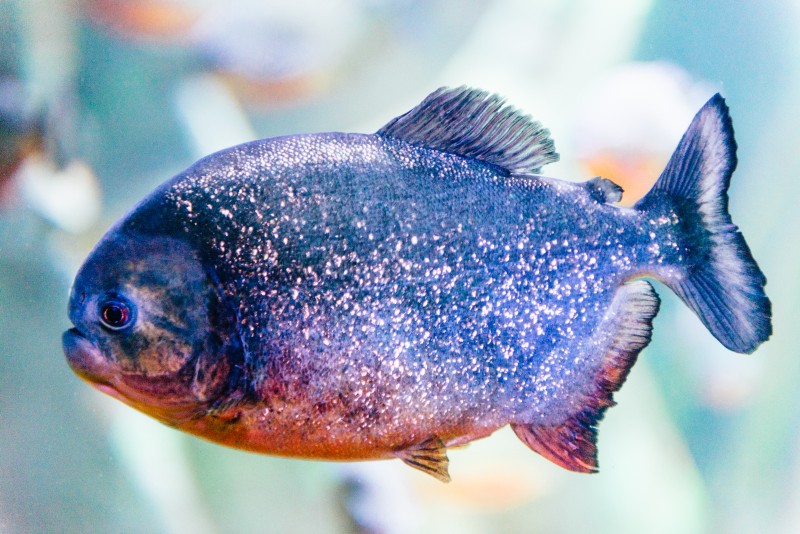 Fabulous glitterfish.

HEY GUYS!

This is a stingray photobombing a picture of another stingray.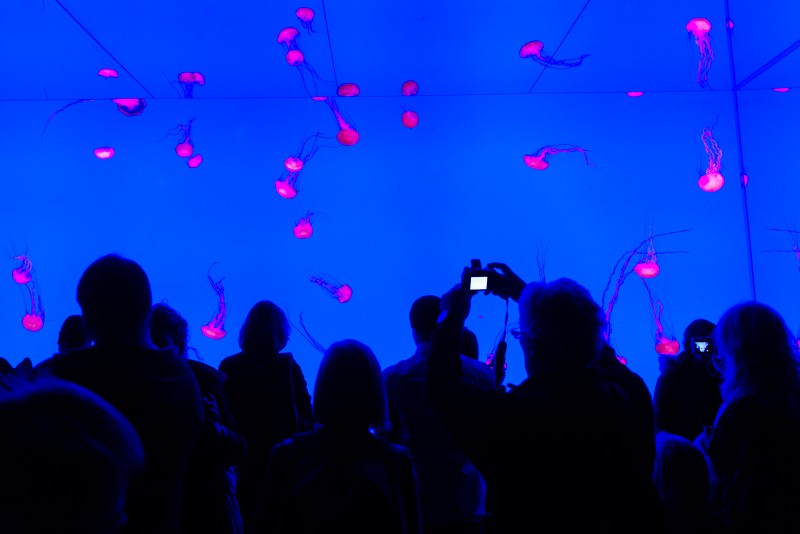 Jellyfish.
So, I may not have taken a really good photo of an octopus, but I did take an average snapshot of a stuffed octopus in the gift shop.
Stay tuned on Thursday for octopus.  Cooked, this time, and much more cooperative as a photography subject.