Into our second miserable cold snap of January, we're in need of some seasonal eating that goes beyond soup. It's part of the Crustcrumbs mandate to address eating traditions, so we weren't about to let Robbie Burns Day pass us by and with it, the only chance to eat haggis for the year. There aren't many other foods that have such pomp and circumstance follow them out to the table before they are formally addressed.
Address to a Haggis
Fair fa' your honest, sonsie face,
Great chieftain o' the pudding-race!
Aboon them a' ye tak your place,
Painch, tripe, or thairm:
Weel are ye wordy o'a grace
As lang's my arm.

The groaning trencher there ye fill,
Your hurdies like a distant hill,
Your pin wad help to mend a mill
In time o'need,
While thro' your pores the dews distil
Like amber bead.

His knife see rustic Labour dight,
An' cut you up wi' ready sleight,
Trenching your gushing entrails bright,
Like ony ditch;
And then, O what a glorious sight,
Warm-reekin', rich!

Then, horn for horn, they stretch an' strive:
Deil tak the hindmost! on they drive,
Till a' their weel-swall'd kytes belyve
Are bent like drums;
Then auld Guidman, maist like to rive,
Bethankit! hums.

Is there that owre his French ragout
Or olio that wad staw a sow,
Or fricassee wad make her spew
Wi' perfect sconner,
Looks down wi' sneering, scornfu' view
On sic a dinner?

Poor devil! see him owre his trash,
As feckless as wither'd rash,
His spindle shank, a guid whip-lash;
His nieve a nit;
Thro' bloody flood or field to dash,
O how unfit!

But mark the Rustic, haggis-fed,
The trembling earth resounds his tread.
Clap in his walie nieve a blade,
He'll mak it whissle;
An' legs an' arms, an' heads will sned,
Like taps o' thrissle.

Ye Pow'rs, wha mak mankind your care,
And dish them out their bill o' fare,
Auld Scotland wants nae skinking ware
That jaups in luggies;
But, if ye wish her gratefu' prayer
Gie her a haggis!
Even in the address it's noted that haggis is not exactly something we tend to fawn over compared to other dishes but that, I think, is what makes it special. I hope it's also what makes it okay to say that we skipped over the traditional ceremony and went straight for the leftovers.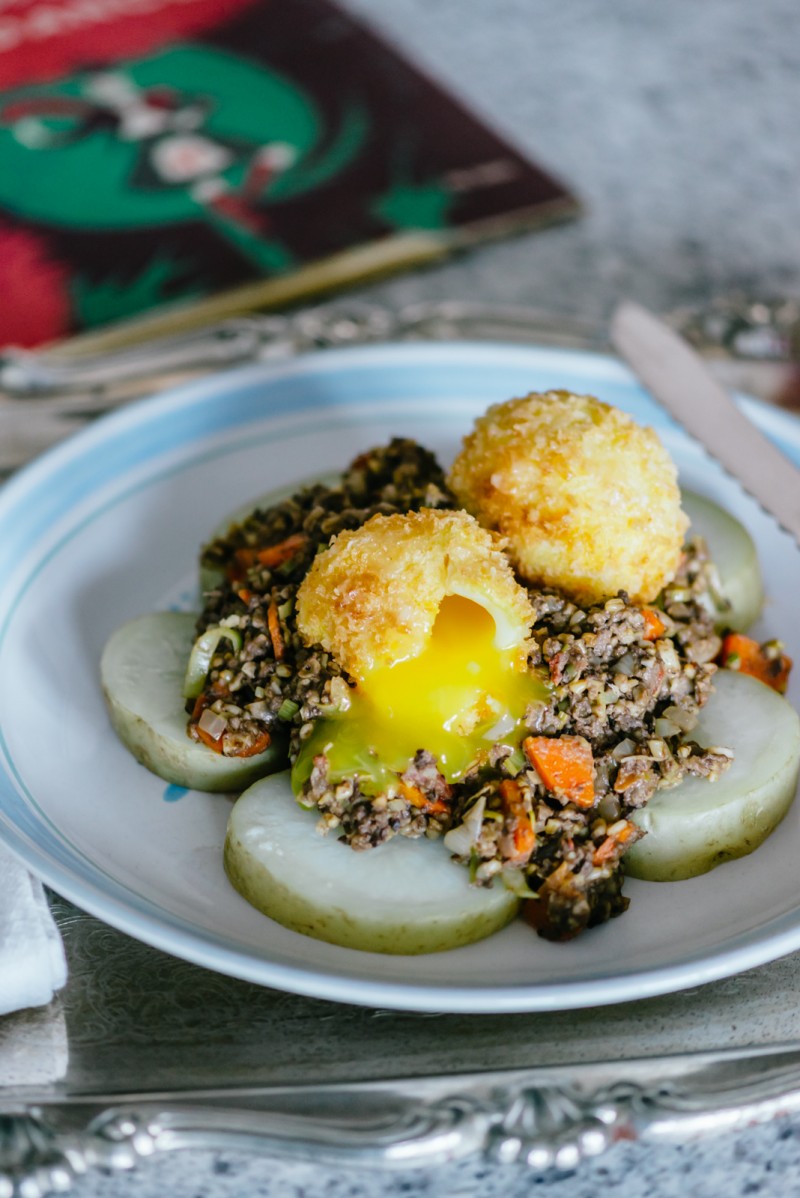 This is haggis for the morning after. A haggis is ideal to make a breakfast mince fry up because it's dense with oats, liver and aromatic black pepper. I'd go through with the whole haggis ceremony actually, if only to have these leftovers the next day. Though pretty damned tasty on it's own, I also can't resist a bit of brunchery tinkering, adding a golden breaded and fried soft-boiled duck egg to top off this glorious mound so that the yolk can ooze its way through the mince adding to its gravied texture. Boiled potatoes are mandatory just as tatties were the night before.
A Scottish-Canadian beverage seems only too appropriate for a haggis breakfast. Enter in the Scotch Caesar. This is especially tasty if you happened to have any remnants of single malt scotch at the bottom of a formerly beloved bottle from the previous night. Since that's an unlikely case though, I'd suggest trying a blended scotch for this cocktail, such as Compass Box Great King Street Artist's Blend Scotch. It's excellent in cocktails and if you wanted to get fancy, you could infuse it with shiitake mushrooms, though it would be a far cry from being Scottish.
So lets toss in a Scottish prayer and get to the food.
Some hae meat and canna eat,
And some wad eat that want it,
But we hae meat and we can eat,
And sae the Lord be thankit.

Minced Haggis Fry
Enough for 4
3 tablespoons olive oil
1 small (approximately 150g) yellow onion, finely diced
1 leek, sliced into thin half moons
1 large carrot, diced finely
4 cloves garlic, minced
1lb cooked haggis, casing removed
100ml red wine
4 whole tomatoes from a can, crushed with your hands
1 tablespoon Worcestershire sauce
2 large white potatoes, scrubbed and sliced thickly
salt to taste
Slick a large heavy-bottomed frying pan with olive oil and heat over medium heat. Add in the onion, leek, carrot, garlic, and a pinch of salt and sweat for 5-10 minutes until the carrots just begin to soften. Slice the haggis into large rounds and add to the pan with the vegetables, breaking it up as it softens. Add the wine, tomatoes and Worcestershire sauce and cook for 5 minutes more until everything holds together in a cohesive mix. Adjust the salt to taste.
In a medium saucepan filled with cold water, add the potatoes and bring to the boil. Add a generous amount of salt to the water and simmer gently until the potatoes are tender when pierced with a knife.
To serve, mound the the mince on a plate with the boiled potatoes tucked up alongside.
Breaded and Fried Soft-Boiled Duck Eggs
Makes 6
6 duck eggs, at room temperature
946ml sunflower oil
50g all-purpose unbleached flour
1 large chicken egg, beaten
65g panko or other fresh coarse breadcrumbs
salt to taste
Lower each duck egg carefully into a medium saucepan of gently simmering water and cook for approximately 6 minutes depending on the size of your eggs. Immediately plunge the eggs into cold water and leave to cool completely before peeling. Be very gentle when peeling the eggs as the whites will be just set and will break if handled roughly.
Begin slowly heating the oil in a medium saucepan until the oil reaches 375°F.
While the oil is heating, roll each egg separately in the flour, then dip into the chicken egg, then coat in the panko. Deep fry the eggs in the oil for approximately 20 seconds until the coating is a light golden brown. Drain on a plate lined with a paper towel and serve warm.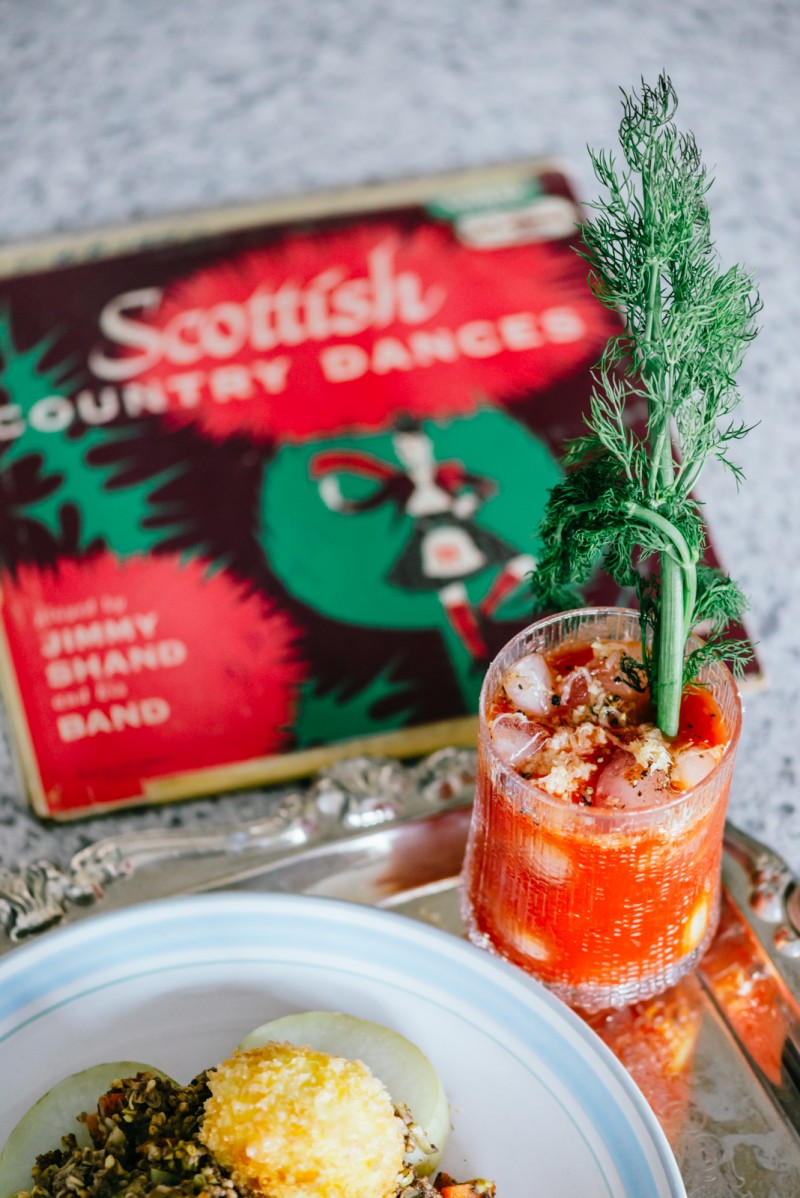 Scotch Caesar
Makes 1 cocktail
2 oz scotch
1/2 oz bottled clam juice
4 oz tomato juice
4 dashes Worcestershire sauce
4 dashes tabasco
pinch of fine sea salt
pinch of celery salt
grating of fresh horseradish
grating of black pepper
fennel fronds, for garnish
In a tall glass filled with ice add everything except the horseradish and black pepper. Stir thoroughly to combine, garnish with a grating of horseradish and black pepper, then the fennel fronds.