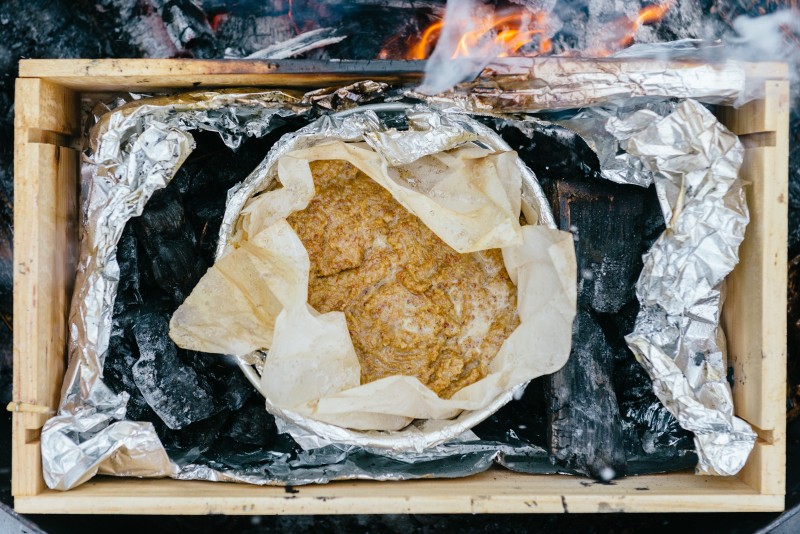 I know you're not going to make sticky toffee pudding in a wood box while standing around in three feet of snow. We didn't – well we did but we finished the dessert in the oven – and even if we had taken it all the way, it would still only be for the sake of taking pictures of it baking in a wooden wine crate. Maybe it was a result of a little cabin fever, stubbornness, and a few craft porters tipping the 10% ABV point, leaving me with little fear of the cold and non-stop snow we'd been seeing all day. Determination meant we were going to get the most wintery photo-set out of this weekend, frostbite be damned.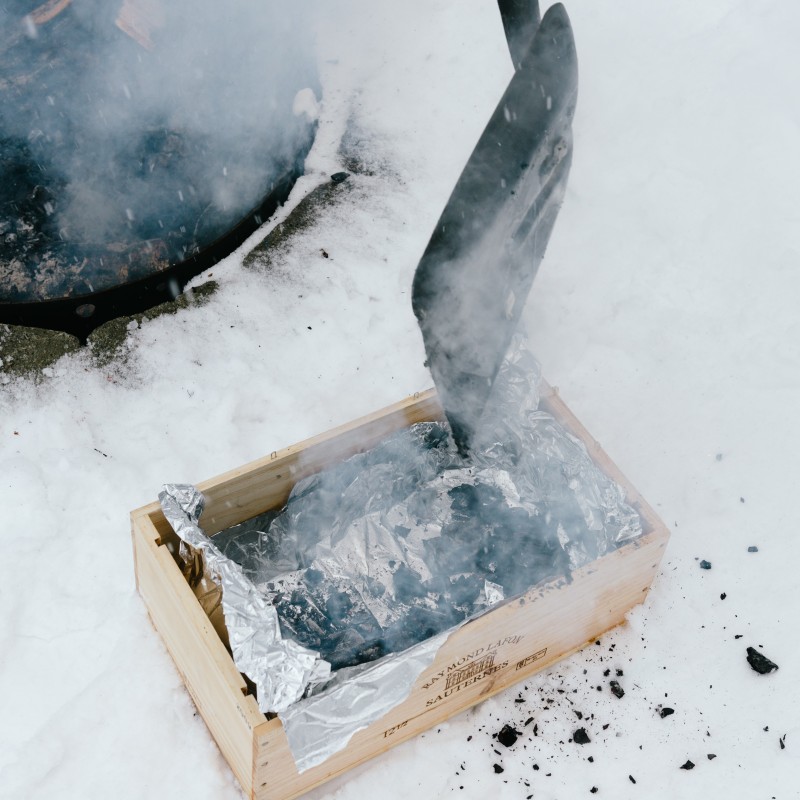 The real reason for the wooden oven experiment was to show that sticky toffee pudding is pretty hard to mess up. It's a dark, damp cake made with dates and treacly brown sugar, and because of this it can stand up to a lot of undeserved punishment. So on top of the unconventional make-shift oven, we went with a gluten free version of sticky toffee pudding. The nubbly almond meal and dousing of bourbon really make this cake dense – a bit brick-like in the stomach, which would only be a welcome thing on such a bleak winter's day.
This is one of those recipes that really benefits from those big impossibly plump and soft organic Medjool dates that are somehow fresher than the non-organic varieties. The bourbon is optional, though appropriate with all the butter and brown sugar happening in this cake. If you wanted to leave the bourbon out entirely, you could replace it with water.
As for serving this cake, you have to make the sauce to accompany it. It's rich and comforting and this pudding needs that kind of familiarity as the cake itself, though related to a sticky toffee pudding, is nothing close to what would satisfy a sticky toffee pudding purist. Though as we have taken an unconventional route thus far, you might as well add a scoop of vanilla ice cream to serve along with it, letting the melting custard meld with the hot sauce.
Hopefully soon, wintery scenes like this will be a distant memory and when we're no longer trapped by snow and ice, we can repress those memories and replace them with this pudding. Now that it's finally spring, it's time to finally shift the focus onto brighter, more verdant adventures.
Gluten Free Sticky Toffee Pudding
For the Pudding
250g organic Medjool dates, pitted
50g Demerara sugar
125ml water
75ml bourbon
100g unsalted butter, melted
1/4 teaspoon ground ginger
200g ground almonds
20g coconut flour
3 large eggs
For the Sauce
65g Demerara sugar
65g unsalted butter
125ml whipping cream (35% M.F.)
Preheat the oven to 350°F and line an 8-inch springform pan with parchment paper. Alternatively you could butter 6 ramekins or any other dish that's large enough to take the batter.
In a small saucepan, combine the dates, sugar, water, and bourbon and heat over medium-high until the liquid begins to simmer. Remove from the heat and let sit for 10 minutes to let the dates soften. Pour the dates and their liquid into a food processor and add the butter, ground ginger, and ground almonds. Purée everything until fairly smooth – a few bits of date are fine in the final pudding. Add the coconut flour and eggs and blend again until fully incorporated. Pour into the prepared pan and bake for approximately 40 minutes or until a tester comes out relatively clean.
For the sauce, bring the sugar, cream and butter to a boil in a small saucepan. Reduce heat and simmer for approximately 20 minutes, until it reaches the consistency of thin custard.
To serve, place a piece of the warm pudding in a bowl or dessert plate with high sides and drench in the sauce.