There's something to be said for making the house smell like roasted meat, adding aromatic warmth from slowly braising onions, peppercorns and bay leaf in hearty red wine for hours on end, steaming up the windows and infusing everything, including the curtains with the scent of home cooking. Admittedly, it's a smell that's not so enticing the day after.
It's such an old-fashioned kind of smell, like home or grandma's house. Actually I'm confident that I've out-grandma'd the older ladies in my building with the scents that come from our apartment on most Sunday nights. Cooking this way is about escapism. Before starting another work week, I take great pleasure in spending all day cooking dinner for the smells alone so I can bask in familiar scents and chase off any Sunday night stresses that come from thinking about going to work on Monday.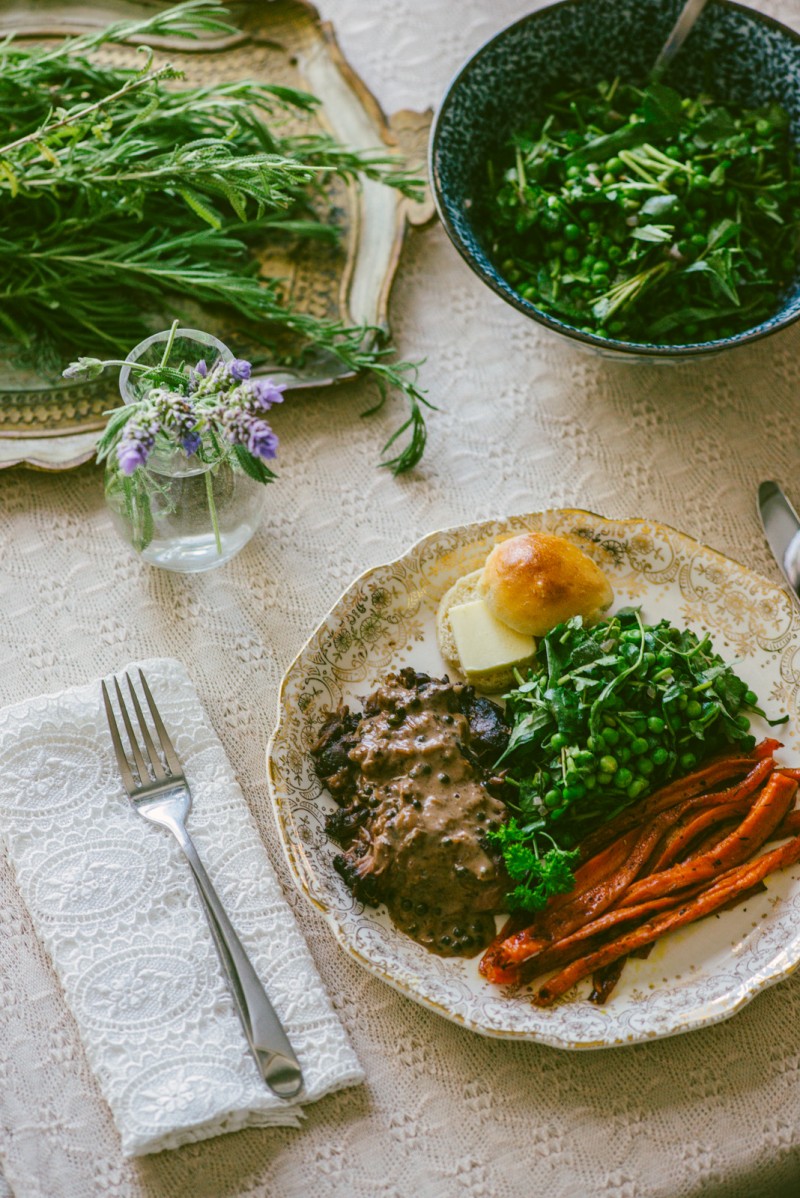 At the end of it all I expect a perfectly tender roast, and depending on the cut of meat, something that's falling apart, served with a gravy-like sauce. If it's beef and I'm feeling particularly nostalgic, I like to have horseradish, freshly grated or in a prepared cream sauce. Roasted root vegetables are the ideal accompaniment and you could use whatever you want but carrots, scattered with fresh thyme before being roasted and caramelized in butter and honey taste like tradition, barely updated. Really old-fashioned would be peas and carrots but I just can't bring myself to take it that far. Yotam Ottolenghi and Sami Tamimi have an excellent take on them in their first book, Ottolenghi the Cookbook if you're looking to combine the two together. Instead, I like the idea of turning peas into a vibrant side salad, adding in a bunch of watercress, chopped roughly with some fresh parsley and tarragon, and a warm vinaigrette made from shallots lightly sautéed in butter, cooled by a splash of red wine vinegar.
For our Sunday Night Dinner at Grandma's post I wanted to share a roast beef recipe, something simple with gravy that would be heightened with a grating of fresh horseradish, but that idea was quickly thrown out as soon as I saw that the butcher had four beef cheeks – on the small side for beef cheeks – tucked behind a stack of skirt steaks, right up next to the beef neck roasts. I'm a sucker for anything "au poivre" in the colder months. Peppercorns, cream and mustard are undeniably harmonious flavours at the table. Beef cheeks au poivre is different in that the "au poivre" treatment usually happens after the meat gets a quick sear stove-top and the pan, a dramatic de-glazing with some brandy. The great thing about using beef cheeks for this dish is that they retain their shape after hours of cooking but melt in your mouth and could literally be eaten with a spoon if it wasn't so inappropriate to do. It's an incredibly rich dish that I'm all too happy to enjoy on any given Sunday night in the winter, with or without grandma.
Beef Cheeks Au Poivre
Serves 4
4 (approximately 830g in total) beef cheeks
3 tablespoons dijon mustard
2 tablespoons unsalted butter
2 tablespoons olive oil
500ml red wine
2 large shallots, roughly chopped
1 bay leaf
Kosher salt and freshly ground black pepper
1 x 30g tin green peppercorns in brine, drained
150ml whipping cream (35% M.F.)
Preheat the oven to 300°F.
Coat the beef cheeks generously with 2 tablespoons of the mustard, and season with salt and pepper. In a medium Dutch oven or other heavy-bottomed oven-proof pot with a tight fitting lid, heat the butter and oil over medium-high heat. Going in batches to avoid overcrowding the pot, brown the beef cheeks on all sides. Place the beef cheeks aside on a plate. Turn the heat down to low and add the shallots and red wine, and using a wooden spoon, scrape the brown bits from the bottom of the pot. Return the beef cheeks to the pot with any juices that have run out onto the plate. Toss in the bay leaf, cover with a lid and place in the oven for approximately 3.5 hours. Beef cheeks can take a lot of abuse without going dry or falling apart. You'll know when they're ready when they look like they're about to fall apart, a bit like the meat is bound by gelatin – I've had some that take up to 7 hours.
Remove the beef cheeks from the pot and place on a plate, covered with foil to keep warm. With the pot back over low heat, whisk in the remaining 1 tablespoon of dijon mustard, whipping cream and green peppercorns. Serve the beef cheeks with the sauce poured over top.
If you're making things ahead of time, you can separate the beef cheeks and the liquid left behind in the pot and refrigerate for a day or so. When ready to serve, re-heat the beef cheeks and rewarm the cooking liquid, adding the rest of the sauce ingredients as instructed above.